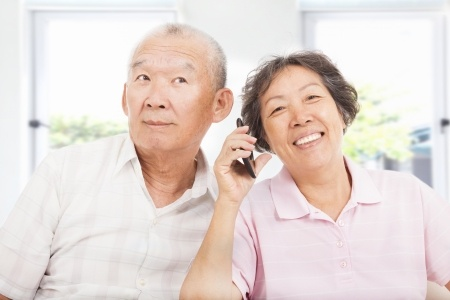 Those who are in their senior years find that many normal tasks are much more difficult than they used to be. Sadly, one of those tasks is communication over the phone. This is more than simply an inconvenience; in the case of an emergency it can delay critical response time. Fortunately, California officials have recognized the importance of phone access for seniors. Below, in-home care near Los Angeles describes some of the free solutions that are available.
Specialized Equipment
For seniors who are losing their hearing (or who are completely deaf), specialized phones either amplify incoming sound or provide a transcription service, which prints out the conversation on a visual display. For fingers that can't easily pick between small buttons, oversized keypads are available. Alternatively, a touch screen with photos of friends and family eliminates the need for typing phone numbers altogether. This option is also great for seniors with memory problems, who may not remember phone numbers at all.
How to Get a Specialized Phone
All it takes is a signature from your loved one's doctor, certifying that he or she needs assistance in order to make and receive phone calls. After a brief review process, the Deaf and Disabled Telecommunications Program will help determine what equipment is ideal for your situation and even teach you how to use it.

If your senior loved one is in the late stages of dementia or Alzheimer's disease, they may need round-the-clock eldercare in Los Angeles. But if an elderly person spends time at home by himself, it is critical that he be able to dial for help quickly and easily. California's free equipment program is a valuable resource for those in this situation, and help is just a phone call away.

Tags: in-home care, los angeles, technology, tools


Categorised in: Community Service, Partners, Safety