---
Information Resources For Seniors And Their Families
Senior Care Information
AARP
National association for individuals over 50 years of age.
Caregiver Magazine
Today's Caregiver magazine for, about, and by caregivers.
Caregiving Humor
Caring.com's humor page.
CaregivingCafe.com
Provide a directory of useful links, contacts, resources & information about all aspects of caregiving in order to more efficiently & effectively provide care to loved ones or to oneself when care is needed.
Careplans.com
Online resource for nursing assessment, planning, implementation and evaluation. The site includes tools, web applications, articles, links, and libraries to assist both caregivers and students in the careplanning process.
Caring Today
Caring Today website dedicated to helping people be caregivers for others. Information on finding support resources and reducing caregiver stress.
Caring.com
Resources for senior care, caregiving at home, caregiver wellness, and more.
Health & Wellness for Port Ludlow
The purpose of the Port Ludlow Health & Wellness Committee is to assist residents in accessing relevant information that supports their personal health care choices.
Medicare resource for caregivers
Resources for caretakers of those with Medicare. Caregiver stories, a newsletter, and further resources.
Senior Pages
Where Seniors and their families find Senior businesses in the Pacific Northwest.
The American BoomeR
Resources and information for America's Baby BoomeR population to live more fulfilling lives and home of Today's BoomeR Digital Magazine
Veterans' Affairs Caregiver Support
VA Caregiver Support resources provided by the United States Department of Veteran's Affairs.
Health and Medical
Alzheimer's Association
Alzheimer's Association provides information on Alzheimer's and dementia, as well as resources for those caring for those with these illnesses.
American Cancer Society
American Cancer Society's website and information hub.
American Diabetes Association
American Diabetes Association website includes basics on diabetes, living with diabetes, food, fitness and specific care issues associated with the illness.
Arthritis Foundation
Arthritis Foundation website includes information on all the different types of arthritis, research, and resources for living with arthritis.
Cancer Support Community
Cancer Support Community, formerly called The Wellness Community, dedicated to helping people in the Los Angeles area not have to face cancer alone. Free support groups, classes, workshops, social activities, and individual counseling.
Elder Rage, or Take My Father… Please! How to Survive Caring for Aging Parents, by Jacqueline Marcell
A Book-of-the-Month Club Selection by Jacqueline Marcell, Eldercare/Alzheimer's Advocate, Author, Speaker, Consultant
National Institute on Aging
National Institute on Aging gives information on clinical trials that one may participate in, as well as aging research.
National Parkinson's Foundation
National Parkinson's Foundation website includes information on diagnosis, treatment, symptoms, as well as a site that shares stories of those living with Parkinson's and their caregivers.
NIH Senior Health
NIHSeniorHealth's website is a website for senior adults, compiled by the National Institute on Aging, and the National Library of Medicine, which are both part of the National Institute of Health. They have a wide range of information and health topics
Parkinson's Disease Foundation
Parkinson's Disease Foundation: Includes sections on understanding and living with Parkinson's disease, and a section for Parkinson's caregivers.
The Rheumatoid Arthritis Support Network (RASN)
The Rheumatoid Arthritis Support Network (RASN) is dedicated to providing up-to-date information and resources for rheumatoid arthritis patients.
Paying for care
BenefitsCheckUp
BenefitsCheckUp is a free service of the National Council on Aging that aims to help seniors find programs to help pay for many of the medications and other health and basic services they need.
Medicare
The official site for the Medicare program.
National Reverse Mortgage Lender's Association
Guide to reverse mortgages from the National Reverse Mortgage Lender's Association. This has a search tool by area, with links to area lenders.
Reverse Mortgages Guide
Nonprofit guide to reverse mortgages for consumers.
Veteran's Affairs Health Benefits
United States Department of Veteran's Affairs Health Benefits page.
Veterans Health Administration
United States Department of Veteran's Affairs Veterans Health Administration webpage. Links to health benefits (see below for direct link,) conditions and treatments, locations and special population groups.
Veterans Affairs
Aging in Place Information
Emotional Support
Grief Healing
A web site to meet the needs of those who are mourning the loss of their loved ones, whether human or animal.

---
Services and Supplies Providers
Adult Day Health Centers
Aging in Place Contractors
Everyday Living Aids and Supplies
Geriatric Care Managers
Home Health Care Agencies
In Home Caregiving Agencies
A Servant's Heart Care Solutions
A Servant's Heart Care solutions provides in home caregiving services and professional geriatric case managers for Seniors living in North San Diego County.
Accredited Home Health Care (Maryland)
Accredited Home Health Care is a Home Health Care agency with local operations based in Annapolis and Ellicott City Maryland.
Angel Companions of Georgia
Angel Companions is dedicated to providing peace of mind for you and your family. Because our "angels" provide outstanding non-medical care, we allow our care recipients to maintain independence while living in the familiar surroundings of their home.
At Home Senior Services
At Home Senior Services provides homemaking and personal care services to seniors in their homes in the Lompoc or Santa Maria areas of California.
Caring.com
Resources for senior care, caregiving at home, caregiver wellness, and more.
Centennial Adultcare Center
Centennial Adultcare Center offers a full range of day care and in-home services to individuals with a wide variety of physical disabilities and/or cognitive impairments, including advanced Alzheimer's and other dementias.
Companion Home Care of Virginia
Companion Home Care Of Virginia has provided exceptional senior home care and child care in the Roanoke Valley since 2006.
Health & Wellness for Port Ludlow – Homecare and Aging in Place Providers
The Port Ludlow Health & Wellness Committee's list of homecare and aging in place providers.
Home Care Resources
Provided of non-medical in-home care and services in Arizona, serving communities through out the Valley of the Sun since 1999 – 24 Hours a day 365 days a year. Home Care Resources was established in 1999 by the owner, Penny Kalish.
Independent Life Compassionate In Home Care
Las Vegas provider of nonmedical home care services.
Living Well Assisted Living At Home
Senior Home Care Services in San Francisco and The Greater Bay Area
Personal Emergency Response Systems ("PERS")
SafeCall
SafeCall provides both cellular- and landline-based emergency help alert service throughout the United States. Their services include help buttons with fall monitors, environmental monitors and automated medication dispensers.

---
Facilities For The Elderly
Elder Care Facilities in Los Angeles
There are two general types of facilities that can provide housing and supervision for the elderly – Assisted Living and Nursing Homes. While our goal as a caregiving agency is to keep our clients healthy and safe at home, sometimes a family will determine it is more appropriate for their loved one to live in a facility. Since we work with many elder care facilities throughout Los Angeles, we are happy to provide you with advice on which facilities to consider. This is our industry and our passion, so we are happy to lend some advice on the best options for your family. Call CareNetLA at 310-393-1282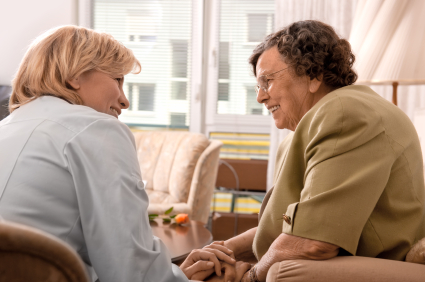 ---
Books For Seniors And Their Families
Books About The Concerns Of Seniors And Caring For Them and Their Families