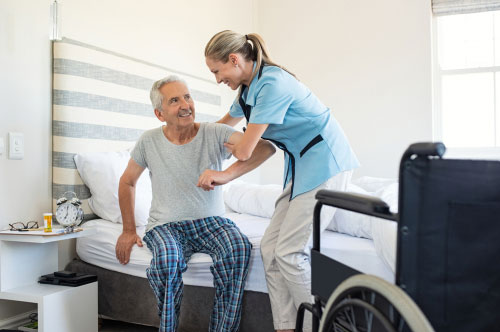 The answer all of your in-home healthcare problems is CarenetLA! At CarenetLA we offer highly qualified and compassionate caregivers for Hermosa Beach. Our caregivers stand above the rest because we make sure they love their job. With some places you get a body to provide caregiver services; with CarenetLA, our caregivers are more than just a body that shows up at your door. They are compassionate, empathetic caregivers in Hermosa Beach that chose to take on a life of caring for those who can't always care for themselves.
CareNetLA In-Home Healthcare Services
Over the last 17 years we have refined our in-home healthcare services to ensure our clients get the best care possible. Here are a few key pieces of our strategy:
We begin with a one-on-one discussion with you and/or your loved one to determine your exact needs. You are not a number with us, you are an individual with very specific needs and we are here to provide those needs.
We are ready to begin the paperwork necessary to have your caregiver services approved (if needed) and paid by your long-term care insurance. We will work with payers to help you overcome any hurdles often seen with a multitude of paperwork that slows your ability to get at home caregivers to your Hermosa Beach home. In short we take care of the paperwork so you can quickly receive the services you need.
Let us work with you to determine the specific caregiver services you need. These services can include meal preparation, transportation services to and from appointments or shopping, personal care services, light housekeeping, and even meal preparation. These are just a few of the caregiver services we offer in Hermosa Beach.
There is never a need to worry about leaving your loved one unattended. We can give you the peace of mind to leave your home while we are there, providing simple companionship or caregiver duties while you are getting a much needed break. People who find themselves caring for those with Alzheimer's often feel trapped in their house, "babysitting" and frustrated.
One call gets the ball rolling with us to provide exceptional caregiver service for your loved one, allowing you some time for yourself for a little reprieve.
Diabetics love our meal preparation services, which assures that they have regular meals available to them.
Contact Us for In-Home Care in Hermosa Beach
You deserve the best when it comes to caregivers for your loved one or yourself. If you're recovering from surgery, in need of continuous or only temporary services, please don't wait any longer. Give us a call today at (310)393-1282 or fill out the contact form so we can determine your needs and begin the paperwork needed to provide you with caregiver services in Hermosa Beach and surrounding area.