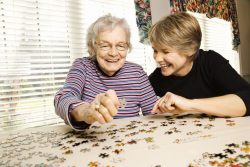 At CarenetLA we are always looking for friendly, reliable, and trustworthy people to join our caregiving team. We offer caregiver jobs with hourly in-home care shifts in Los Angeles, CA and surrounding areas. We have a wonderful team of caregivers who are very special to us, and we seek to grow the CarenetLA family while keeping the same standards of excellent client care.
To become a CarenetLA caregiver you MUST:
Must be able to speak, read and write in English
At least one year of verifiable caregiving experience
Have access to a car with California insurance
Have a clean DMV report with no more than two moving violations
If hired, must be legal to work in the United States
Must be able to lift and carry up to 50 pounds.
If you meet the requirements above and can pass a thorough background check, please contact us and call our employment hotline at  800-741-1951.
After successfully completing your interview and background check, we will schedule you for a CarenetLA hiring meeting. We look forward to welcoming you into our proud CarenetLA family.