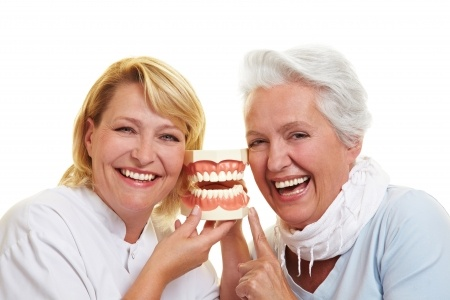 Caregivers in Los Angeles Remind Seniors to Brush and Floss!
We teach our children to take care of their teeth and gums from an early age. Most of us brush every day, and some of us use dental floss and mouthwash as well. But for the elderly, taking care of oral health every day is easily forgotten or even impossible for those with decreased grasping ability. Caregivers in Los Angeles are anxious that seniors continue to enjoy healthy teeth and gums for as long as possible.
All About Routine
One of the keys to healthy teeth is routine. When we brush/floss at the same time every day, we help ourselves remember to do it. When helping our aging loved ones, the same principle applies, although the routine will be different. If there is some other task that you take care of daily for your parent, try to connect tooth-brushing with it. If your senior receives eldercare in Los Angeles, specify that tooth-brushing should be part of the daily routine.
More than Clean Teeth
While having a mouth full of sparkling white teeth is important, there are plenty of other benefits of good oral health. Buildup on the teeth and gums exposes a person to harmful bacteria, and with weakening immune systems, the elderly are more vulnerable than others to resulting disease. In addition, cavities, infected gums, and poorly maintained implants cause great pain. Just a few minutes per day spent cleaning a senior's teeth can protect them from these and other health risks.
Eldercare in Los Angeles: Open Wide!
Even if your elderly loved one is capable of spending most of the day alone in the home safely, there may be some things (such as oral health) that they neglect. Even a brief visit each day from a professional caregiver is enough to tidy the house, bring in the mail, change a light bulb, get a book from a high shelf, mail a check, and—of course—brush and floss!
Categorised in: Healthcare, Healthy Elders